Gaspari Nutrition SuperPump MAX – 1.41lbs Sour Apple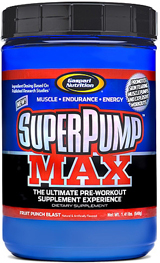 What Does SuperPump MAX Do?
Increases Endurance Capacity
Fights Muscle Soreness and Fatigue
Enhances Nitric Oxide Levels and Vasodilation
Improves Amino Acid Utilization
Ingredient Dosing Based On Published Research Studies
WHAT KIND OF ATHLETE ARE YOU? That's the question you have to ask yourself when deciding which pre-workout product to use. And what is it you want out of that pre-workout product? Do you want to become STRONGER and throw MORE WEIGHT around in the gym? Do you want to look in the mirror and see the massive, lean and vascular physique you've always wanted? Do you want to step into the ring with the competition and DESTROY THEM? What kind of an athlete would you be if maximizing your genetic potential were NOT your goal? We have a feeling you know what we're talking about. This is why you have put your trust in a product name with over a half a decade of accolades and research.
One that provides a TRUE ATHLETE like you with the latest and most advanced array of ingredients ever seen in a pre-workout powerhouse. The original SuperPump250® was arguably the best loved pre-workout product ever designed. However, research advances. This is why Rich Gaspari's commitment to making the ABSOLUTE BEST products is unwavering and why the best got even better with the creation of SuperPump MAX.
Gaspari Nutrition doesn't rely on cheap stimulant laden formulas, cleverly crafted to claim they contain high concentrations of beneficial ingredients in order to win your support. Those do nothing more than get you buzzed like a junkie and that's about it. We rely on the ingredients backed by PUBLISHED STUDIES and actually use them in the doses VALIDATED by those studies. In this regard, Gaspari's commitment is unmatched in terms of giving you the results you EXPECT when spending your hard earned cash on a pre-workout product.
So the question stands, "What type of an athlete are you?" Do you want a quality pre-workout product that will help you become bigger, stronger, and an absolute force to be reckoned with? Or will you sell yourself short in this most important time in your life with products that give you nothing more than a quick buzz, a hard crash, and potentially cause counterproductive results? How do you think a TRUE ATHLETE would answer that question? REAL ATHLETES train with MAX. Do you?
SuperPump MAX Frequently Asked Questions
Q: What does Gaspari Nutrition mean by asking "What Kind Of An Athlete Are You?"
A: Let's be honest, you go to the gym to look your best and push yourself to the extreme. Unfortunately, a few companies have disgraced the pre-workout market with "concentrated" formulas that really don't support helping you look your best and to be a better athlete, rather they just "crack you out." That's all you can expect from under dosed formulas chock full of stimulants. SuperPump MAX can help you become the athlete you've always wanted to see in the mirror so we want to you to ask yourself, WHAT KIND OF ATHLETE ARE YOU?
Q: Some products advertise they are "concentrated" and don't need large formula to get the job done for an athlete. Why don't you guys follow this line of thinking?
A: We want to bring you the best and give you ingredients in the doses that actually increase your performance, your strength, and increase lean mass that is based on science, not smoke and mirrors. These "concentrated" formulas consist largely of stimulants with under dosed ingredients like beta-alanine and arginine alpha ketoglutarate (AAKG). As an example beta- alanine is clinically proven to work at 3.2 grams per day and should be used multiple times per day. That is why we include it in Anavite at the clinically validated dose and not under dosed in our pre-workout that is to be taken on training days only. AAKG must be used at 12 grams a day for an effect and it's proven not do anything at 4 grams. These other companies utilizing ingredients like these in "concentrated" formulas are grossly under dosing them while making claims based on research that doesn't even apply to their formulas. This is downright deceptive and they prey on unsuspecting consumers. The math just doesn't add up so don't be fooled!
Gaspari uses use clinically validated doses of citrulline, creatine, carnitine tartrate, leucine, etc to get the job done right; you have to use the correct doses which often can't be fit into one large scoop or into a 5-6 gram doses in the popular concentrates.
Q: Why do you utilize so many vitamins and minerals in your formula?
A: Certain minerals serve as electrolytes that help the body maintain proper muscle function and hydration while training. Ingredients like magnesium, calcium, potassium, and sodium are crucial to this process. We utilize the best forms of certain B-vitamins such as methylcobalamin (B12), inositol hexanicotinate (B3), and pyridoxal 5'-phoshate (B6) to ensure proper absorption. These b-vitamins are crucial to energy metabolism, synthesis of new cells such as the red blood cells that carry oxygen to your muscles, and the repair of damaged cells to support recovery. There is nothing worse than cramping up or becoming dehydrated, is there? You want enhanced recovery don't you? You won't see these ingredients in the popular concentrate because they are expensive! How could they forget the electrolytes? Don't sell yourself short with pre-workouts that skimp out on these crucial factors you'll need while training that will ensure you are the best athlete on the field, in the gym, or in the ring.