Animal Training DVD's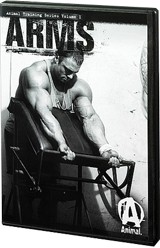 Most people think that to have that body you always dreamed of would require hours of work in the gym, right?  That the only real way to obtain that body would require hours upon hours of slaving away in the gym, well that is just simply not true.
I started using the Animal Training DVD's, it not a quick fix it is a routine that should be used at least 5 times a week, but the workout is only a 45 minute full body workout and the results are amazing.  I highly recommend anyone who wants to either shape up or gain some muscle mass to try this video!
Animal Training DVDs
By: Universal Nutrition
Complete DVD Training Series Teaches You To Get Results The Animal Way!
The complete Animal Training Series of DVDs are designed to help you get motivated, get inspired and bust through plateaus the Animal way!